A Quick Overview Of The 2022 Vintage
Most of us wine enthusiasts have heard the phrase "winemaker's vintage." This term has been getting a lot of play lately in Paso Robles when describing the 2022 growing season and vintage. The best way to understand the term is to consider that at Sixmilebridge, Anthony and his team work hard to intervene as little as possible in the winemaking process. Anthony always wants the vineyard to speak. He wants the fruit and the land it comes from to express itself in the wine we make.
The 2022 vintage was determined more by decisions Anthony made in the winery than any previous vintage of Sixmilebridge. A few of the techniques employed in 2022 by the vineyard and cellar team include: selective harvesting, extensive sorting, trials with native yeast strains that convert to lower alcohol levels, and early presses to avoid astringent tannins that can be associated with extreme heat spikes.
What brought all this on? Beginning 8/31, the temperature spiked to 107 degrees with daily highs remaining in triple digits for the next ten days, reaching a peak of 112 degrees on 9/5. This intense heat spiked sugar levels and set off a fire drill in the vineyards around Paso to accelerate getting the fruit off vines and into the cellar.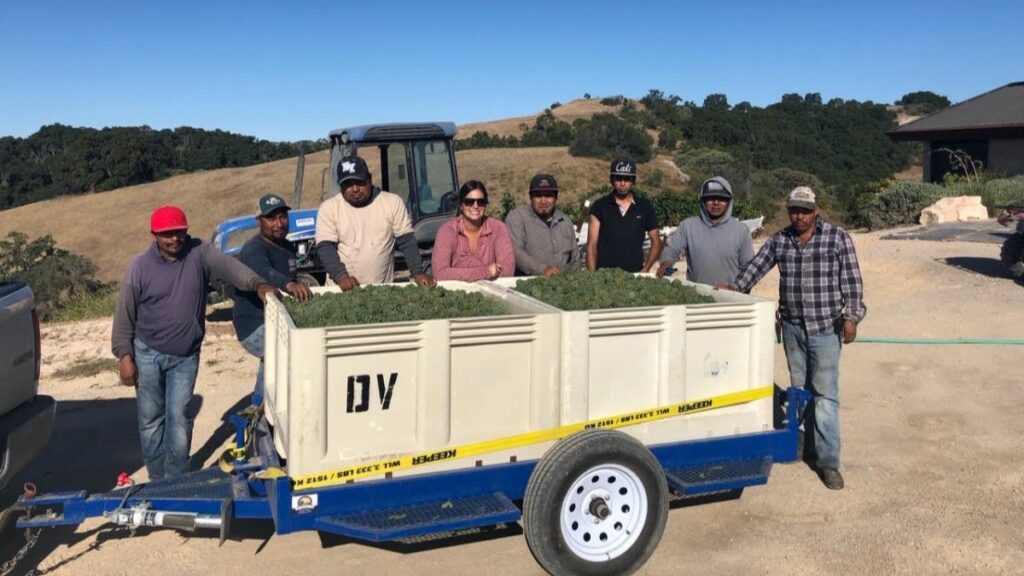 We were fortunate to harvest all the estate's Sauvignon Blanc, Semillon, Merlot, the top of our Malbec block, our Cab Franc from the Grace Vineyard, and a good deal of our Grace Vineyard Cabernet Sauvignon harvested by 8/29…before the heat spike. Our Zin, some Cab Franc and some Cab Sauv from Maidie were harvested by 9/2, meaning this fruit only experienced two days above 100 degrees. The rest of the fruit (about one-sixth of our two vineyards) was exposed to excessive heat for all ten days.
Yes, we lost some fruit due to this heat. Hillary estimates about 10% of our fruit was desiccated. When it was all in and weighed, our overall tonnage was about equal to 2021's harvest. We were hoping for a slight increase in fruit due to Grace Vineyard having a little more maturity and especially with bringing in our first ever harvest of Semillon. All things considered, we feel fortunate to at least match last year's crop.
We began the harvest on 8/15 and concluded four weeks later on 9/16. In 2021, harvest began on 8/26 and concluded on 10/14, a period of seven weeks. So you can see how compressed this harvest was. I want to give a shout out to Hillary and our vineyard team for their intense efforts to get as much of this fruit into the cellar in the shortest amount of time possible!